SAFARIS

We have many Safaris programs with different price. Our price is based on 2 pax sharing a room and we charge a supplement for single room.
International flights excluded.
Let us know which location and lodge you are interested in, when and how long your trip, what is your budget, etc...
ACTIVITIES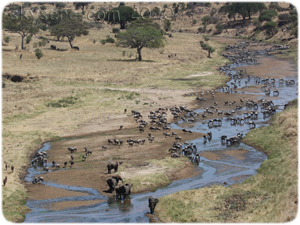 SAFARI PACKING LIST
Each client is limited to 13 kg baggage on the aircraft. Your baggage should be packed in soft bags to fit into the small luggage compartments of the aircraft and in the vehicles you will be using during your trip.
Please note that white and blue colors are not advised whilst on safari.
We advise you to wear neutral colored clothes as brown, grey, khaki, green etc.
Clothing

Long sleeved shirt for protection from sun and insects
Sweater - Jacket and pants for cold temperatures
Hat
Bathing suit
Lightweight hiking shoes to wear during safari
Short pants
Sunglasses

Personal Items

Malaria tablets
Sunscreen - Sun block
Ziplock bags for camera and toiletries
Insects repellent

Other Items

Waterproof-dustproof bags
Flashlight
Binoculars
Locks for baggage
Wildlife guide books
Small backpack
Small gifts for children as pencils, exercise books, small backpacks...

Caution - Zanzibar

If you go to Zanzibar, more specifically to Stone Town, please be advised that this place is of Muslim majority, and long dresses are strongly recommended.
Avoid skin-tight clothes unless you are at the beaches « Hakuna Matata ».
SAFARI VEHICULES