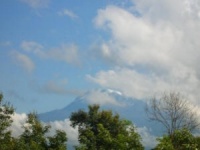 Kilimanjaro is the highest snow-covered equatorial mountain in the world and the highest peak on the African continent.
As it was written by Ernest Hemingway : "As wide as all the world, great, high and unbelievably white in the sun was the square top of Kilimanjaro".
It is a mountain where you can hike for around 90 kilometers, gain 4 000 meters in altitude, traverse rain forest, moorland, alpine desert, snow fields and ice cliffs and the top provides a dramatic view of the surronding plains ! A challenging and fascinating adventure.
Description
With its 3 cones : Kibo, Mawenzi and Shira, Kilimanjaro is a dormant volcano located in north-eastern Tanzania, rising 5,892 m (19,330 ft), being part of an east-west belt of volcanoes. The highest point is Uhuru Peak on Kibo cone. Even if it is dormant, on top of Kibo there is a 1,5 mile wide crater with signs of fumaroles. Kilimanjaro has been dormant for millions of years and according to experts, there has been no eruption from human memory.
Vegetation
This mountain presents five ecological zones :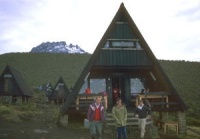 The cultivated slower slopes less than 1 600 m high
Montane forest from 1 700 m to 2 700 m high : tropical forest with many plant species and big trees
Heath and moorland from 2 700 m to 4 000 m high : many plant species with giant Lobelias to 3 m high
Alpine desert from 4 000 m to 5 000 m high, an arid area where live only a few species
The year-round snowed summit from 5 000 m to 5 895 m high
Due to its equatorial location, there are two rainy seasons : the long rains occuring from March to May in the forest belt and the short rains period from October to November.
WACHAGGA People
The Wachagga People came into this area 250 or more years ago. They settled down and farmed Kilimanjaro's and Meru's slopes, collecting the abundant water from the mountain's streams and developping an ingenious irrigation system. The irrigated agriculture on terraced fields was essential in the Wachagga way of life and subsistance. Now they live mainly around Kilimanjaro, Arusha and Moshi areas. Coffee is now the principal crop for many Wachagga people, with bananas, and they cultivate also beans and corn.
KILIMANJARO routes
Except the two rainy seasons, climate conditions for climbing remain constant throughout the year. The average temperature at the basis of the Kilimanjaro is 25°C 30°C, at 3000m high day temperatures range from 5°C to 15°C with generally frost at night, and on the top from -10°C -20°C.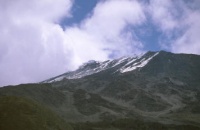 Marangu route 7 days : most popular route up Kilimanjaro, accommodation in mountain huts with basic shelter but with beds and mattresses at every campsite. Scenic route with views of Mawenzi..
Machame route 8 days : the most scenic route to the summit with stunning views. More demanding than Marangu, but less trekkers traffic, accommodation in camping tents. Moreover a day additional on trek for a better acclimatization will help you to reach Uhuru Peak !
Umbwe route 7 days : a fairly steep route through rocky paths for very fit or experienced trekkers. Reach the summit via Barafu and Stella Point. Umbwe is known for its caves.
Shira route 8 days : Shira Plateau is one of the most fascinating areas on Kilimanjaro. Starting at 3 500m high, for trekkers already acclimatized. Shira route joins up with Machame route at Shira and makes its way via Stella Point.
Rongai route 7 days : one of the easiest routes up, accommodation in camping tents. The north route starts at Rongai, a village near the Kenyan Border. Beautiful views over the Maasai plains.
MOSHI
Moshi is a town located in northern Tanzania, at the basis of Mt Kilimanjaro. It is the coffee production center of the country. During the seasonal coffee auctions which are important events in the life of the city, buyers come to Moshi from over the world. Coffee production is the first economic wealth of the region, but also is important the sugar production, and the sugar plantations are located in the vicinity of Moshi. Cultural visits can be arranged upon request to visit some coffee plantations and some villages around.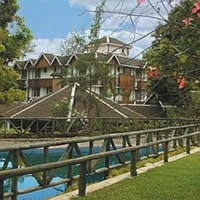 PROTEA AISHI HOTEL

It is located at the basis of Mt Kilimanjaro, on the way to Machame Gate. There the trekkers will start climbing. Beautiful setting -among trees and lush lawns-, quality of the property –the 30 bedrooms have just been completely refurbished- , this hotel offers a bar, a restaurant which serves international and local dishes, a swimming pool. Nature walks and cultural visits can be booked at the front desk of the hotel. Professional management and staff, with personalized service.
ARUSHA
Arusha, located in northern Tanzania, is the main entry point for people who visit Serengeti, Tarangire, Manyara National Parks, Ngorongoro Crater and also for trekkers whose plan is to climb Mount Kilimanjaro. Of course Arusha is the main entrance of the less visited but so beautiful Arusha National Park.
1400 m high, located at the southern basis of Mont Meru -the second highest mountain in Tanzania- Arusha is the center of this mainly agricultural region with coffee, coton, vegetables, flowers production. Close to Arusha are located the Merelani Hills where a gem quality mineral called Tanzanite was discovered in these hills mines. Tanzanite is a rare and beautiful deep blue gemstone.
Arusha is also an important world conferences center.
IMPALA HOTEL

Located in Arusha town, the Impala Hotel is set in a beautifully landscaped garden with a profusion of flowers and birds. Large tour operators mainly use it to house guests overnight before safari or departure back home. All 100 rooms include mini bars and television and all have a different style and all have on suite bathrooms.
The Impala hotel has 4 restaurants, which offer western, Chinese, Indian and local cuisines, 2 bars and is one of the cheaper hotels in Arusha. Impala Hotel offers various facilities such as a swimming pool, internet café and is walking distance from the Arusha International Conference Centre.

KIA LODGE

A few minutes drive from the Kilimanjaro International Airport (JRO), KIA Lodge is ideally locatel whatever your day be climbing Mt Kilimanjaro or starting a safari. Nestled in beautiful lush tropical gardens, the bungalows built in traditional style using thatch and Tanzanian arts and crafts, are confortable with en-suite bathrooms, mosquito nets. Bar, restaurant with an excellent international and local cuisine, swimming pool. From the bar and the swimming pool breathtaking views of Mt Kilimanjaro, Mt Meru, Blue Mountains and Maasai plains. Many activities and cultural visits are proposed by the lodge.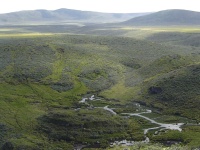 These extensions can be done in combination with a regular Safari. Giving one a break from the long hours driving on those ever bumpy Roads ! We have no specific program, for these we always tailor them.
OLMOTI CRATER
At 3700 metres the Crater itself is relatively shallow and home to many grazing Animals. Water flows across the south side, it is a favorite route for walking safaris.
EMPAKAI CRATER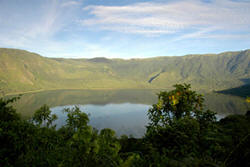 300 metres deep and six km wide it is dominated by a soda lake which occupies nearly half the floor. It supports a variety of unique water bird life. The 32km rim walk allows the visitors to enjoy the beauty of the landscape.
GOL MOUNTAINS
The remote and ecologically fragile Gol Mountains are divided by the valley of Angata kiti which leads to the Salei plains. A fascinating area to explore by 4wd vehicle or by foot and a chance to enjoy solitude and peace.
OL KARIEN GORGE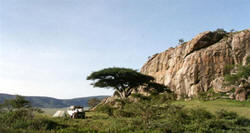 The sheer walls of this narrow Gorge in Gol Mountains provide in the raining season breeding sites for hundreds of Ruppell's vultures, and in the dry season it is a crucial water source for Maasai and their livestock.
NASERA ROCK
This huge monolith stands 80 metres high and towers over the surrounding short grass plains west of the Gol Mountains. There is evidence of prehistoric man sheltering here for thousands of years.
OLDOINYO LENGAI VOLCANO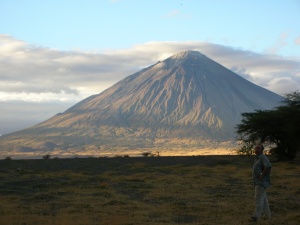 The landscape of Ngorongoro Conservation Area has been shaped by volcanic activity caused by the formation of the Gregory Rift and the Eyasi Rift, the main geological features of the Region. During a process which ran its cause over a period of four million years, seven volcanoes were created by the lava flows. Some of them Oldoinyo Lengai the Masai Mountain of God, just outside borders of Ngorongoro Conservation Area is still active. Energetic visitors can climb the steep slopes to gain a spectacular view at the top. In recent years the ash has bubbled over the lower rim leaving a white layer which can be seen from the surrounding areas. Over many millennia the ash of many eruptions has been deposited by the prevailing easterly winds to form the fertile plains of Serengeti. And now after the last explosion the crater is deep again