Frequently Asked Questions
Why should I go on safari with Sky of Serengeti Safaris Ltd ?
Africa remains the last outpost of raw adventure,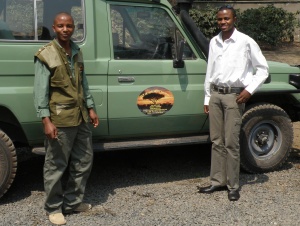 a refuge from the modern world. From the splendor of Serengeti teeming with herds of million of animals, to the pristine beauty of Ngorongoro Conservation Area Authority, there is no other place like this in the world.
Africa is a magical destination...
At SKY OF SERENGETI SAFARIS we understand that ensuring your comfort and maximizing your experience while traveling through this immense and diverse land is of utmost importance. We have done our best to research and understand every portion of your trip. Unlike the impersonal mass tour operators, we personally take care of your every need because you become part of our company.
What is the tanzania landscape like ?
Different landscapes with the Highlands, the coastal lands, savannah grasslands, ranges of mountains and volcanoes including Kilimanjaro, Oldoinyo Lengaï and Mount Meru. Lies on Indian Ocean with great beaches in Zanzibar among other coastal towns.
What are the different cultures ?
Tanzanian Culture is a result of African, Arab, European and Indian cultures. There are 120 tribal groups whose the largest group is of Bantu origin including Sukuma, Nyamwezi, Makonde, Pare, Haya, and Chagga. The Maasaï are of Nilotic origin, as are Hadzabe, Samburu and Mangati.
Are there opportunities to meet with local people or visit ?
There are many opportunities for cultural interaction. We could arrange visits to local schools, markets and villages. Due to Sky of Serengeti Safaris Ltd's background, we have exclusive access to Maasaï, Hadzabe, Datoga villages and we could arrange visits from a few minutes to overnight stays, allowing you to participate in daily activities, from carrying firewood to sitting for hours around a smoky fire listening to stories. Many people feel that their lives have been forever changed by this experience.
When is the best time to go on safari ?
It really depends on which animals you wish to see. Some reserves have good game viewing all year round but other ones will have particularly good zebras sighting or other migratory animals at different times of the year. Due to the different habitats of the parks and reserves, it is generally known that from June to October the best area is Centre, Western Corridor and Northern part of Serengeti. From the end of December to May the best places are Ndutu Ngoronogoro Area and Ndutu Serengeti Area. All year round there is plenty of wildlife to see and great birding activities. In Tanzania you have memorable opportunities of witnessing the Migration of over 2 million animals.
Advanced booking is recommended.
Early morning game viewing
We highly recommend early morning Game drives each day and especially in Serengeti National Park and Tarangire National Park. All lodges and camps can prepare breakfast boxes to go (versus breakfast at the lodge) so you can maximize Wildlife viewing during these critical early morning hours. However feel free to decline if you prefer rather have a more leisurely morning. Additionally, some adventurous visitors may wish to embark on a full day Game drive to the most remote areas of the Serengeti which will require a lunch box.
It is also important to be patient with wildlife viewing. Instead of racing off to each animal sighting, it can be more rewarding to find an animal that interests you and stick close for an hour or longer watching different behaviors and learning about the specific animal. Something exciting could happen ultimately and you woud be pleasantly surprised. Most safaris offer quality-viewing opportunities of all the major large and small mammals. Lastly, please communicate with your driver/guide about your specific animal interests and your specific requirements.
Can I see the big five during safari ?
Yes, at least some of them. In the Serengeti National Park, Tarangire National Park, Lake Manyara and Ngorongoro Crater spotting all of the Big Five in 6 or 7 days is very possible but cannot be guaranteed. Due to the vastness of Serengeti and Tarangire, it is impossible to predict in advance what animals you will find on your safari. This is part of the excitement and adventure of looking for wildlife in their natural environment.
Also, in your quest to view the big five, be sure not to miss out on the many other interesting animals, birds, plants, insects and reptiles to be found. Your guide will consult with you about your interests and what you most wish to see. This will help us determine what approach we take. If the Big Five is what you want to see, we will make every effort to try and find them. If you are interested in birds, we will take you to some of the best birding spots like Arusha National Park,Tarangire, Ngorongoro and Serengeti . If your passion is photography, we will create ample opportunity for this and put together a fantastic photographic safari in Tanzania.
Photography
Taking good pictures requires patience, excellent timing and high-quality camera.
Please ask always people before taking pictures of them (or your driver/guide will ask them for you).
It is also forbidden to take pictures of government institutions, military buildings (army, police, border police).
You could recharge your batteries at lodges or camps having a generator which runs part of the day (on morning and on evening) but we recommend you to bring your own adaptor plug and one more spare battery. A good option for recharging batteries is an adaptor plug to recharge from a vehicle battery.
How many people on your safaris ?
Most of our safaris guarantee departures with a minimum of 2 pax and are limited to a maximum of 12 pax and ( if more than 5 pax on a safari, we use 2 vehicles (4 x 4). A window seat is guaranteed to each person.
May I do any shopping during my safari ?
On safari shopping is limited. In some lodges and camps, there are small souvenirs shops and you can buy postcards, local products as carvings, clothing, books, maps, etc. On the way near Manyara and Ngorongoro there are African curio markets where you could buy several kinds of carvings, masks, drums, even Tanzanite.
Our children want to enjoy safari : are they allowed on safari ?
Not only they are allowed, we encourage it ! Please contact us and we will send you information on our exclusive family safari. It would be a great experience for your children to visit Tanzanian parks, to discover other cultures and other people. They will return with a greater respect for wildlife and a greater understanding of the diversity of cultures. They may come back with a new appreciation for all the great things they have in their own lives.
Kind of accommodation - what is a Lodge Safari ?
The kind of accommodations will depend on your personal requirements.
Sky of Serengeti Safaris offers Lodges safaris, fly-in and drive-out or drive-out and fly-in, Permanent tented camps, Mobile budget campsites. More specific information is available upon request.
On a Lodge Safari you travel from lodge to lodge and do game drives with your driver/guide. The Lodges we use are essentially hotels in the National Parks. They provide most of amenities found in a hotel (e.g. restaurant, bar, lounge, swimming pool etc.). This is a good choice for families with children or for anyone who wants a certain creative comfort when returning from Game drive. On a Lodge Safari you travel from lodge to lodge and do game drives with your driver/guide.
What is a single supplement ?
Hotels, Lodges and Tented Camps impose a minimal extra fee for single travelers. Safari prices being based on two people sharing a double room accommodation, single travelers have to pay the per-person price plus the single supplement fee.
The permanent tented camp
Permanent tented camps allow you to sleep under canvas, with all the amenities of a lodge. Accommodation varies from comfortable to luxurious tents. Set on fixed or permanent foundations each tent contains a private bathroom with flush toilet and hot shower.
What do the letters mean ? B/B - H/B - F/B - L - D
The letters indicat the meals that are included on a safari on tour.

L = Lunch
D = Dinner
B/B for Bed and Breakfast.
H/B for Half-Board
F/B for Full Board
L/B for Lunch box
L,D,B for Lunch, Dinner, Breakfast
International and Domestic flights
Many of the major world airlines such as KLM, British Airways, South Africa Airlines, Swissair and Ethiopian Airlines fly into Tanzania several times a week. Visitors from USA could fly via Amsterdam/Europe or via South Africa.
Sky of Serengeti Safaris doesn't deal with international flights but only with domestic flights within Tanzania.
Flying in an opportunity to see the country from the air while cutting out long road journeys. Aircrafts are professionally maintained and inspected according to specifications, pilots are experienced and highly qualified. Domestic flights reach our uncompromising standards of safety.
Balloon safari
Floating over the Serengeti plains whilst dawn breaks over the great Migration is an unforgettable experience. The balloon ride is followed by a champagne, breakfast cooked over the Serengeti plains.
Food
Food is catered to western tastes, with soups, salads, pasta, roasted meat or fish, steamed vegetables, potatoes, rice, fresh fruit, dessert. Any special dietary requirement can be catered for : for this please inform us in advance we can arrange accordingly. On Safari enjoy coffee and tea.
What is required to enter Tanzania ?
You should have a passport with validity at least 6 months extra more than the planned stay.
Today visa for Tanzania cost is US$ 50 but please consult the nearest consulate office for latest visa requirements and cost. It is possible to ask for visa at the arrival at the airport but we advise you to have your visa in advance to avoid waiting at the visa counter.
Should I purchase local currency ?
US$ cash and travellers checks can be changed into local currency at airports and banks. Best to ask for small bills. PLease keep always your receipt in order to change your money back to US$ at departing.
Can I use my credit card in Tanzania ?
All major credits cards are accepted at hotels, shops and restaurants. However use may be restricted in small towns and country areas. No use in small retail shops. Some lodges and hotels do not accept payment by Dinners or American Express. You can pay also by US dollars cash, travelers checks.
Is it safe to visit Tanzania ?
Petty thefts may occur in major cities and towns of East Africa. Keep always an eye on your handbags, wallets, and cameras. Avoid walking alone at night in towns. We recommend you to place valuables in safe deposit boxes at hotels and lodges.
What kind of luggage should I take ?
Luggage should be kept to a minimum – 13 Kg/27 pounds per person packed in a soft daffodil bag. Hard sided suitcases and soft-sided internal frame carry on luggage are not acceptable as the will not fit in the baggage compartment in the safari vehicles and on small aircrafts which may be used depending on your safari program. Remember : laundry service is offered at most lodges and camps at an extra cost.
What kind of clothes should I take on safari ?
On safari best is to wear grey, brown or khaki colored clothes during the months of July through October, and green clothes during the months of November through June so as not to alert wildlife of your presence.
From July to September mornings and evenings can be quite cool. Take some warm clothing.
Is Wildlife dangerous ?
There might be a degree of danger when viewing animals because nobody can anticipate the behavior of wildlife. But most animals are afraid by humans, and they flee from humans rather than attack (unless being cornered or provoked).
At your lodges or camps, please never venture outside your accommodation without a guide. Camps and lodges are not fenced, so wildlife may wander through.
Gifts (zawadi)
School supplies are in great need in Tanzania. You may bring school supplies : pens, pencils, exercise books, spiral books, small back packs, coloring books, colored markers, chalk, chalk board and world maps (inflatable globes are always a big hit) and present to a local school while on your safari. There are schools between the Makuyuni and Karatu as well as between Tarangire and Arusha. Some people like to bring a small gift for their driver-guide. A good option for this would be a T-shirt or hat (Kofia) with a logo of your local sports team or any other item identifying with your hometown.
Are there any medical precautions ?
It is mandatory for Tanzania visitors to be vaccinated for Yellow Fever, so bring your vaccination card.
Malaria is present in many parts of Africa : we suggest you to consult your local doctor or health department for information on malaria phoghylatics and on vaccination requirements.
For mountain climbing, be prepared with necessary altitude medication from your doctor.
How long in advance should I book my safari ?
It is better to book as far in advance as possible to ensure availability at the time you wish to travel (3-5 months) especially during the high and peak seasons (January to March, July to mid-Setptember, and Christma/New year). This is very important for those who wish to travel on private extensions to scheduled trips.
Insurances
We require that all our clients arrange personal travel Insurance to cover their medical and other personal risks for the duration of their Safari.