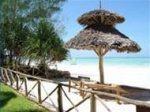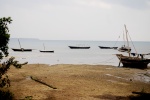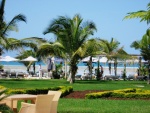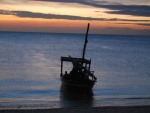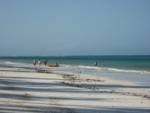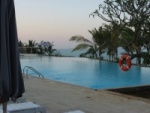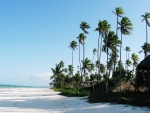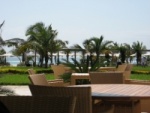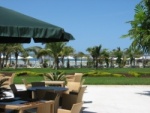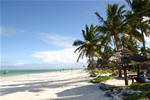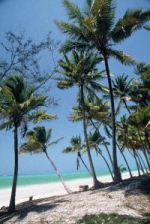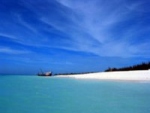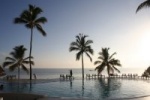 Zanzibar East Coast
Blue Bay Beach Resort is situated in an area known as Kiwengwa. Blue Bay offers 80 Superior rooms, 6 deluxe rooms and 2 Sultan rooms all facing palm-fringed beaches and each consists of spacious en suite bedroom, dressing room, and private veranda or balcony, decorated in the East African style. All rooms are equipped with large four-poster beds with mosquito nets, air-conditioning, satellite TV's and mini-bars. The Sultan Rooms are the essence of luxury and are situated directly on the beach. The public areas are open and airy and both the lounge and dining area overlook the pool and the sea beyond. Blue Bay offers a range of activities from a fitness centre, a disco, a conference centre, tennis court, snorkeling, deep-sea fishing, diving and so much more.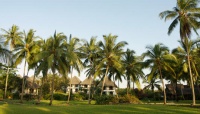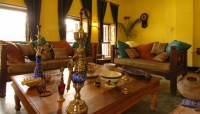 This Indian Ocean archipelago with its white sandy beaches is located 35 km off the Tanzanian main land. The Zamani Zanzibar Kempinski is the Zanzibar's leading international resort, situated on the north-east coast of the island, featuring world class luxury. The hideaway resort offers 110 rooms, 7 private villas, an exclusive beach club and a romantic Jetty Bar above the Indian Ocean. The hotel is perfect destination for honeymoon or wedding vacations as well as meetings & incentives. After being voted in 2007 as the best hotel in category "Luxury Villa Resort" at the World Luxury Hotel Awards and Leading Resort in Tanzania at the World Travel Awards, Zamani has once again been nominated for the World Luxury Awards in 2008.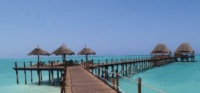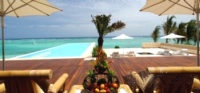 Pongwe Beach Hotel is a true paradise retreat, set within a secluded bay on the east coast of Zanzibar. The resort's beautiful gardens surround ten beach front Zanzibar cottages - each boasting various local hand crafted Zanzibar doors and traditional beds. All cottages have en-suite bathrooms, and a private terrace.The sea view cottages have traditional lime wash walls, and thatched roofs. The size of the resort allows for a high standard of service, and even during peak-season the atmosphere at the Pongwe Beach Hotel remains relaxed, intimate and exclusive. You can take a trip around the island, or to Stone Town - the historic, bustling, cultural core of Zanzibar. You can also hire a 4×4 jeep, or a motorbike. Or you may prefer to take to the ocean, and go out for a day cruising on a long boat, and combine it with some big game fishing and snorkeling. With the experience of the hotel's consultant chef, be assured that the crab, king prawn, and other fine local produce will be prepared and cooked to the highest of international standards.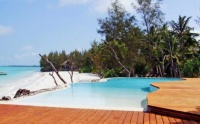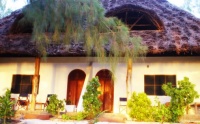 We are a small, relaxed family run hotel. Our accommodation and restaurant are both highly recommended by the Lonely Planet Guide to Tanzania, The Rough Guide to Tanzania, and the Bradt Guide to Zanzibar & Pemba. Nestled on a coral cliff headland, amongst lush tropical gardens, the Shooting Star Lodge overlooks the beautiful fine white sands and coconut palms of Kiwengwa beach. The atmosphere is intimate and tranquil with spectacular views across a coral reef to the azure Indian Ocean beyond. Our friendly and knowledgeable staff are committed to helping you enjoy your stay with us. We are multilingual, local, and dedicated to our guests' contentment, entertainment, and happiness. Our aim is to help you to relax and enjoy the beautiful island of Zanzibar, and your stay at Shooting Star Lodge.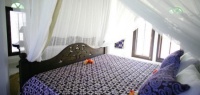 Karafuu, in the Kiswahili language means cloves, one of the rare essences that made Zanzibar well known all over the world. The Karafuu Hotel is an oasis of peace shaded by coconut palms, frangipani, and bougainvillea, surrounded by long deserted beaches dotted with coral cliffs. Just over an hour from the airport, Karafuu Hotel was built in harmony with the environment with local materials according to ancient Zanzibar traditions and furnishings, in Zanzibar old style, are the products of the ancient skill of local handcraft. There are 61 junior suite cottages and 31 standard rooms, each one comprising : bedroom, veranda, dressing room or wardrobe, bathroom in Carrara marble ; with telephone, ceiling fan, independent air conditioning, hot and cold desalinated running water. The large main buildings consist of reception hall, lobby, sea view bar and restaurants, boutiques with drugstore, conference room, theatre for evening entertainment shows, disco, TV room with digital satellite, games room and salon for massages and tattoos. Various activities : tennis, diving, snorkeling, water skiing, surf biking, banana rodeo, canoeing, boat excursions, deep-sea fishing, cycling, tennis table, volley ball, bowls. International animation.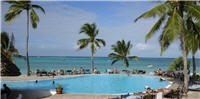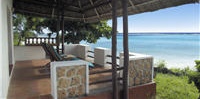 Zanzibar Northern Coast
Situated about one mile down from Nungwi, Kendwa is a haven for those who prefer a slightly quieter holiday retreat. Kendwa is famous for its laid back and cool atmosphere.
After spending a relaxing day on the beach and swimming in the cooling tropical waters of the Indian Ocean, you can watch the sun setting over the sea, and as the sun goes down, the moon and the stars come out, creating a magical glittering canopy above you.
There are a total of 39 rooms in bungalows, with garden and sea view categories, for different budget.
All the rooms have en suite facilities, hot water showers, ceiling fans and a spacious verandah or balcon, and some of them offer great views of the Indian Ocean.
The restaurant, located directly on the beach, offers local and international dishes, with an emphasize on fresh seafood.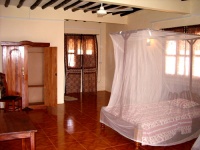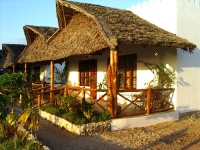 Welcome to Sunset Kendwa, the tropical paradise of Zanzibar's north coast. Fringed by powdery-white sand beaches, azure waters, and thriving coral reefs, the exotic spice island of Zanzibar is the most idyllic of tropical destinations. We offer a wide range of brightly decorated traditional rooms and bungalows, as well as all the facilities you will need to help you ease into Zanzibar's relaxed pace of life. The sands of Kendwa beach are the perfect place to relax, spend your days swimming or sun-bathing, snorkelling, scuba diving or exploring Zanzibar's rich history.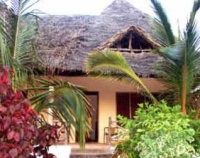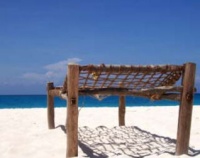 Mnarani Beach Cottages is a beach resort hotel, located on the most northern coast of Zanzibar Island in the village of Nungwi, next to the old lighthouse. "Mnarani" means "lighthouse" in Swahili. At Mnarani Beach we offer excellent accommodation suitable for honeymooners as well as families and couples looking for a wonderfully relaxing break. After climbing Mount Kilimanjaro or taking a lengthy safari trip, this is the ideal place to relax. At Mnarani you will be able to develop the art of doing nothing on a beautiful beach. However, there are also plenty of activities available, from spectacular snorkelling, diving, fishing and sailing to many interesting half and full day excursions on the island of Zanzibar. And although being very peaceful and secluded, our hotel is in walking distance to the lively village of Nungwi.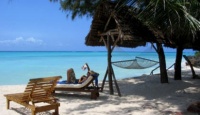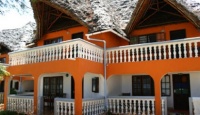 Located on a wild beach on the northern tip of Zanzibar is Ras Nungwi Beach Hotel. The hotel is built from hand-cut fossilized coral limestone and other natural materials, and literally blends into the landscape. There are 32 rooms furnished with handcrafted four-poster beds with mosquito nets and local décor. All rooms are air-conditioned and have en-suite facilities and balconies. Lodge rooms have a garden view and both types of chalet room, superior and superior deluxe, have a sea view, with proximity to the ocean being closer the higher the category. Ras Nungwi Beach Hotel is an ideal location for all forms of water sports and is a perfect diving destination with its proximity to the surrounding reefs. It has a fully equipped diving centre on-site. Beginners can be trained and issued full PADI certificates by the resident dive instructor. If you don't feel like diving you can relax on the beach or bathe in the temperate sea water.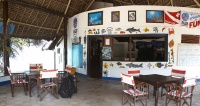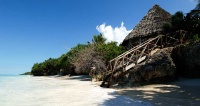 Ocean Paradise Resort is set within the unspoiled beauty of an extensive natural palm grove and fronted by the most spectacular sandy beach. The East African influence is everywhere from the moment you enter the reception with its breathtaking views over the resort, the palm fringed beaches and the azure blue water of the Indian Ocean. Accommodation consists of 100 bungalows designed in traditional native style combining colorful fabrics with local textiles and materials. Each room is fully air-conditioned and equipped with all the modern comforts. The bungalows, whether set on the rise of the natural escarpment or in the palm grove fronting the beach, offer views over the white sandy beaches fringing the Indian Ocean beyond.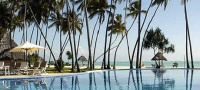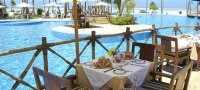 Our family run, 14 room, beach hotel is situated at the northern tip of Zanzibar island, on the beautiful turquoise coastline of Nungwi. Personal attention to our guests is assured. Ideally situated for swimming, snorkeling and diving activities. Mnemba Atoll, just a short boat trip away, is one of the best diving spots in the world. There are also 2 diving centres just 5 minutes walk away.The hotel lies within a private tropical garden, which fronts the famous North Coast Beach. A small, low-density development of cottages with spacious double bedrooms, Flame Tree Cottages offers high quality accommodation in a tranquil setting.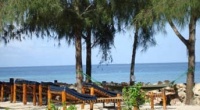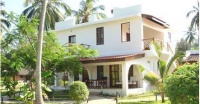 Chapwani Private island is the perfect spot for those seeking a small quiet lodge with good food on a beautiful peaceful beach with Stone Town and all its facilities just 15 minutes away by boat. From this site you can book your stay through the operator's own European travel Company, House of Wonders. There are only five bandas with a total of ten rooms right on the beach. The rooms are not large but are comfortable, with a spacious bathroom and separate toilet. They are decorated with colourful African prints and furnished with traditional local furniture and four poster beds.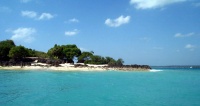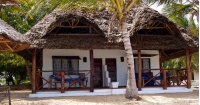 Zanzibar South East Coast
Breezes Beach Club & Spa stretches along the south-east coast of the tropical island of Zanzibar. In this idyllic setting, on a beach stretching as far as the eye can see, you can enjoy personalized service and long, lazy days in the sun. Romantic strolls, spectacular sunsets, candlelit dinners and hot stone massages at Frangipani Spa, it is a popular choice for honeymoon couples. Many activities : such as deep sea fishing, dolphin tours, daily snorkeling trips to the lagoon and places to explore including the local spice plantations and the World Heritage Site, Stone Town. The Rising Sun scuba centre offers personalized instruction for beginners, while experienced divers can enjoy the fascinating marine life of Zanzibar's magical south east coast.



AN ARABIAN DREAM IN THE INDIAN OCEAN
Indulge in the magic of Zanzibar's endless white sand beaches and Turquoise Ocean.
Delight in the beauty of Arabic architecture and artifacts.
Revel in real comfort – space, serenity and privacy.
You can unwind – you have reached the timeless zone…
Villa Maroc

Villa Maroc is the most secluded of all our villas. It is thus ideal for honeymooners or a romantic getaway. Villa Maroc has two bedrooms and can easily accommodate two couples as well. The total surface area is 170 sq. meters. On the second floor, a terrace with an open-air bathtub offers a magical view on the ocean.

Villa Pwani

Villa Pwani has two bedrooms and can be rented a whole private villa or as individual suites. The total surface area is 450 sq. meters. It is ideal for 2 couples, but extra beds can be added on request. Please consult us. The whole second floor is a roof-top terrace with an open-air bathtub and lounge space overlooking the ocean.

Villa Palm

Villa Palm has three double bedrooms and can be rented as a whole private villa or as individual rooms. The total surface area is 850 sq. meters. It is ideal for 2 or 3 couples, but extra beds can be added on request. Please consult us. The villa has a fantastic patio and an amazing rooftop terrace with a breathtaking ocean view.

Villa Jewel

Villa Jewel is Kikadini's main villa, where you will find our reception area, restaurant and shisha lounge. A few more steps and our deep blue swimming pool is there, ready to welcome you.
Zanzibar West Coast
Situated on the west coast, only 5 minutes north of Stone Town and historically located between the Maruhubi Palace and the Mtoni Palace Ruins. An ideal location from which to explore Stone Town and the rest of the island, while providing a peaceful retreat. Mtoni Marine offers great facilities including a newly built infinity pool, a variety of restaurants and entertainment, the traditional Mrembo spa, the neighboring Mtoni Palace with its historical trail where Princess Salme was born and the perfect setting for Zanzibar weddings!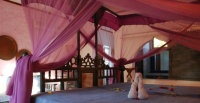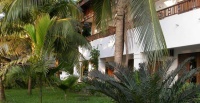 Lapped by the waters of the Indian Ocean and bathed in Africa sunshine, Fundu Lagoon is a remote and peaceful resort, only accessible by boat. Set on beautiful beach in the south west of Pemba Island, it is privately owned and run with a love for the natural environment that surrounds it.
Wooden walkways and sandy paths lead to eighteen Makuti thatched tented rooms and suites - all of our accommodation has breath taking views of the Indian Ocean.
Fundu Lagoon's main areas are open sided with thatch roofing. There are three bars, an excellent restaurant, a beautiful infinity pool and a calming fusion spa.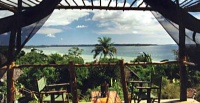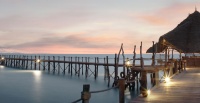 Mnemba Island
Mnemba Island Lodge is situated on an exclusive island just 4.5 kilometres (2.8 miles) off the north-eastern tip of Zanzibar in the azure Indian Ocean. Surrounded by an atoll of breathtaking coral reefs, it boasts some of Africa's most wonderful dive sites. Mnemba is renowned as one of the most romantic ocean destinations in the world, offering a privacy and rustic exclusivity unparalleled on the African coastline.